Born: 1978 (43 years old)
Colour: dark bay
Breed:
Gender: mare
Pedigree:
Sizes:
Horseman:
She is class "B", bay brown mare of 1978 – bottom line she has Arabian blood accordingly being from landrace of Hódmezővásárhely. Take into consideration that her maternal grandfather – "Gazal 261" – in spite of his age is an outstanding and remarkably trustworthy school horse yet nowadays. She is premium fertile. She yeaned 12 foals during 14 breeding years.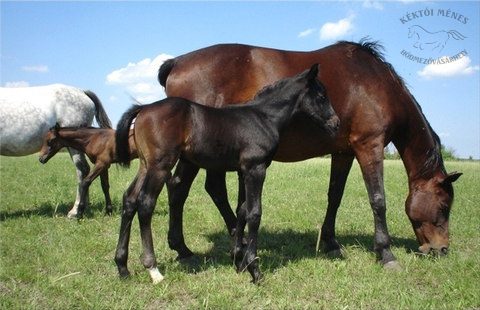 Out of her foals, "Gazfickó" is a hunter - with bronze badge - and military stallion in Canada.
---
Liliom
Origin:
1663. Furioso VI-
52 Furioso XIII.
Furioso VI.
5280. Furioso III.
306. Ürmös- Furioso
443. Furioso V.
Furioso V.
372. Furioso "A" XXVII.
1497. Linka- 2
1511. Hódmezővásárhely Gazal-261
5466. Gazal VII-1
CD7-3 Csilllag
T47. Linka
5576. Kiskunság- 21
T7 Munkás
---